General Dentistry in DeLand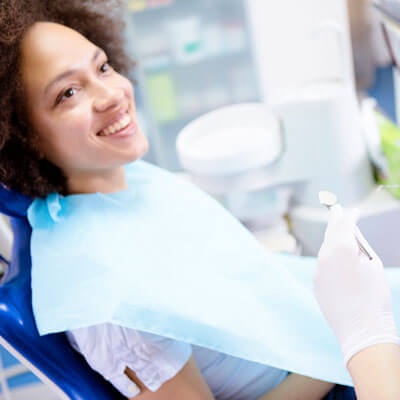 At DeLand Smiles, we're proud to offer a number of general dentistry services to help patients of all walks of life receive the dental care they're seeking, including:
Exams
Digital & 3-D X-rays
Cleanings
Oral Cancer screenings
Crowns & Bridges
Sports mouthguards
Teeth Grinding (Bruxism)
TMJ & Headache Relief
Tooth Extractions
Periodontal Care
Implant Restorations
Partials & Dentures
Oral DNA Testing
A Healthy Smile is a Reflection of Your Systemic Health
Some of our patients have very healthy mouths, which is a reflection of a very healthy body. Unfortunately, it can also be the other way around – a very unhealthy body causing an unhealthy mouth.
Dr. Mathias is one of the founding members of the American Academy of Oral Systemic Health. With his vision, we help our patients see past things that seem like small ailments, and get a better view of the big picture.
Unmanaged oral health conditions are directly linked with severity of systemic health problems like:
Diabetes
Obesity
Erectile dysfunction
Premature labor; Low birth weight
Alzheimers
Rheumatoid Arthritis
Cardiovascular diseases including high blood pressure, heart attack, and stroke
By improving the health in the mouth, these health risks can be minimized and better controlled. Dr. Mathias can often find signs of systemic conditions that you might not have even known that you had.
It pays to go to the dentist! After examining my teeth, Dr. Mathias advised me to have a questionable area checked out. The ENT doctor and my oncologist found a recurrence of Non-Hodgkins Lymphoma, Stage Four.

After four treatments, my oncologist refers to me as the "miracle woman"… Yes, it pays to go to the dentist.
-Edna W.
Schedule Your Visit
If you're in need of a checkup with us, please, contact us today to book your appointment. Maintaining a regular visit schedule with us will help keep your teeth and gums healthy for years to come, and allow us to catch any problems that exist before they get bigger.
Give us a call today!
CONTACT US »
---
General Dentistry DeLand FL | (386) 736-7121